I thought I'd share with you our Anzac biscuit recipe. We make them for Anzac day every year as our way of remembering the men and women who have served our country. (We do make them at other times too).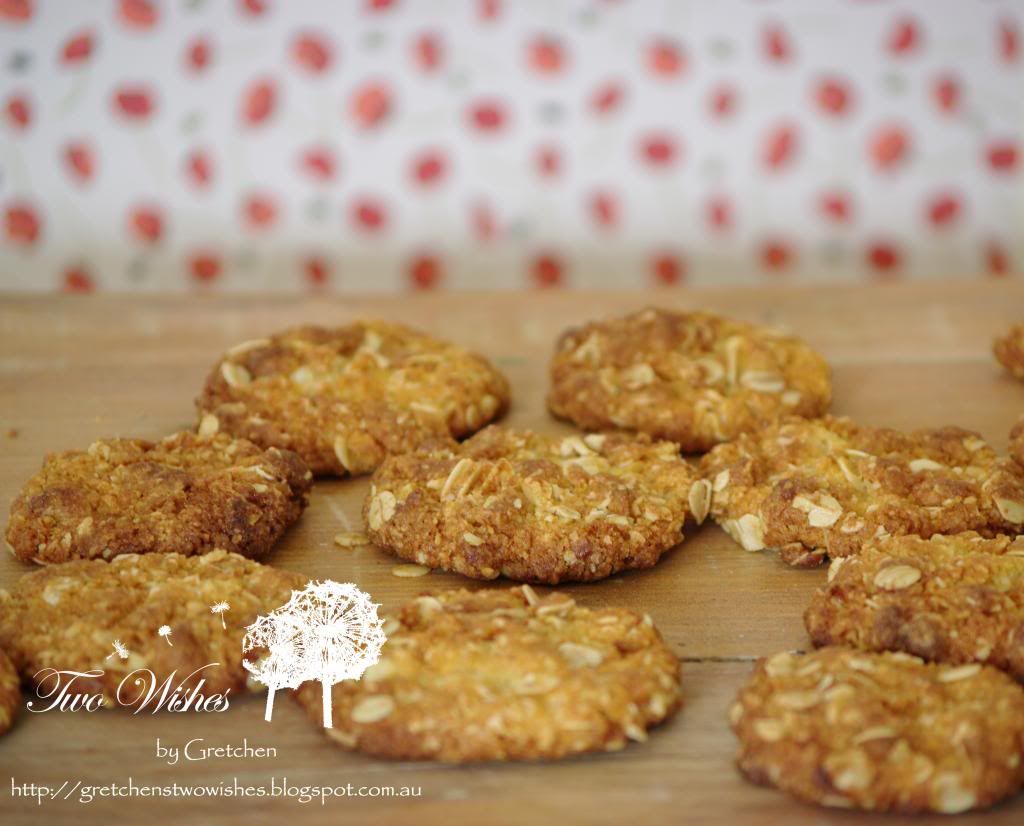 ANZACS
(taken from The Central Cookery Book)
130g butter
1tbsp golden syrup
1c flour
pinch salt
1c coconut
1c sugar
1c rolled oats
2tsp bicarb soda
2tbsp boiling water
6 drops of vanilla
Preheat oven to 160
oC.
Line biscuit trays with baking paper.
Melt butter and golden syrup.
Sift flour and salt.
Add sugar, coconut, rolled oats.
Dissolve bicarb in boiling water and add vanilla.
Mix all ingredients together and mix well.
Roll into small balls and place on baking tray (allow room as biscuits will spread)
Bake in the oven for 10 mins
Allow to rest on the tray for 1/2 minute before lifting off to cool on a cake cooler.
I am not 100 percent happy with this recipe so I have found a few more ANZAC biscuit recipes I would like to try including this one I found at
The Australian War Memorial Website
it features an original recipe provided by Bob Lawson, an ANZAC present at the Gallipoli landing.

The Ode
They shall grow not old, as we that are left grow old:
Age shall not weary them, nor the years condemn.
At the going down of the sun and in the morning
We will remember them.
To all those who have served and are serving our country thank you.
For more information on Anzac day you can look
here
.